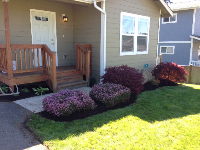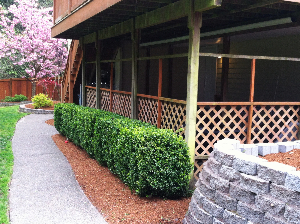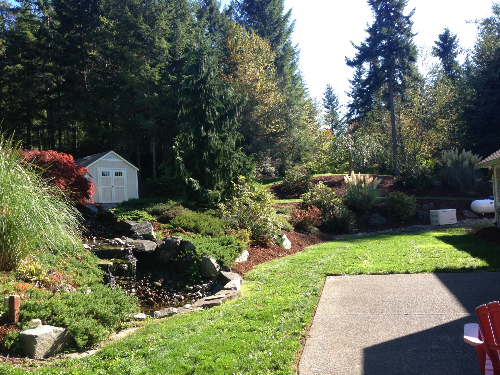 Wiser Lawn is a team of experienced Lawn Care ServiceProfessionals focused specifically on turf and landscape in North Kitsap County. We service both commercial and residential properties.

You live in what is basically a rain forest. What do you do if you want a normal looking lawn that doesn't grow moss like it usually would? Understand that in this area it will be a constant battle because the conditions in North Kitsap almost always support moss growth. This is a process that will work if done right. You cant just do it once. A lawn needs to be maintained yearly in order for the moss to remain absent.
Step 1 - Kill the moss.
Wait until the moss is dead to remove it. As long as 2 weeks
The products that are offered for this are usually green friendly but check to make sure. Ours is for sure.
Step 2 - Remove the dead moss.
Rake it out or dethatch the lawn to get it out.
Rake out and Remove as much moss as possible.
Step 3 - Condition the Soil to reject moss and accept. grass seed.
Lime helps with this and is safe for streams and rivers.
If your starting over or have more compacted soil then add new soil to the lawn for better seed germination.
Step 4 - Aerate and/or dethatch the lawn to accept new seed.
Loosens soil for better oxygen, creates holes for seed and helps with moisture control.
Step 5 - Seed the Lawn.
Choose Wisely (pun) - Get the right type of seed for your lawn.
Links to other resources about moss in your lawn
North West Center for Alternatives to Pesticides.
http://www.pesticide.org/Alternatives/phase-2-solutions-for-consumers/lawn-moss
2. Good Blog.
Your Privacy is important to us
Poulsbo Fruit Tree Pruning
Kingston Sprinkler Repair
Kingston Fruit Tree Pruning
Silverdale Sprinkler Repair
Silverdale Fruit Tree Pruning
Bainbridge Sprinkler Repair
Bainbridge Fruit Tree Pruning
Suquamish Sprinkler Repair
Suquamish Fruit Tree Pruning
Bremerton Sprinkler Repair
Bremerton Fruit Tree Pruning
Indianola Sprinkler Repair
Indianola Fruit Tree Pruning
Hansville Sprinkler Repair
Hansville Fruit Tree Pruning